Single Use Plastic Ban In India : Single use plastic has been banned in India from 1 July 2022. plastic by the government 19 things It includes plastic plates, cups, glasses, spoons, knives, trays, straws and plastic flags, plastic candy sticks, ear buds with plastic sticks and ice cream sticks, thermocol etc.
The government is banning this type of plastic because it is harmful to our health as well as environment But it has a very bad effect.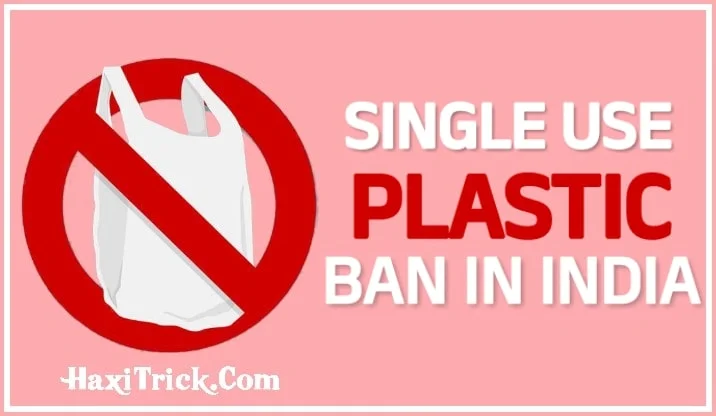 Which things got banned? And how much will the fine be?
A total of 19 single-use plastic items have been banned in India from Friday, July 1, 2022. These are the 19 items:
Plastic carry bags (less than 75 microns thick)
ear buds with plastic sticks
plastic flags
balloon stick
plastic candy stick
ice cream stick (plastic)
plastic plate bowl
plastic glasses
plastic spoon and fork spoon
birthday knife
plastic straw
sugar mixing stick
plastic tray
thermocol
plastic stirrers
foil around invitation card
wrapping foil
cigarette packaging film
PVC Banners Below 100 Microns
How much will be fined: According to the Central Pollution Control Board, single-use plastic waste generated from the house will attract a fine of Rs 500. So at the same time, a fine of Rs 5000 will have to be paid by any institution or company for spreading such waste. Apart from this, if anyone is caught using such a plastic item, then there is a provision of fine up to one lakh rupees and imprisonment up to 5 years.
What is single use plastic? (Single Use Plastic In Hindi)
Hindi meaning of single use plasticsingle use plastic' is, it means that it Recycle Can't be done Plastic cups, plates, plastic bags (foil), small bottles, straws and some pouches are examples of single use plastic.
Products made from single-use plastics cost much less, so they are cheaper. They have been used for years, due to not being re-usable, they are thrown away after use once.
But it costs a lot of money to dispose of it, even after that it is not completely destroyed, it takes years to get destroyed.
Disadvantages of Single Use Plastic?
Due to not being recycled, the amount of this waste is continuously increasing on the earth, which can prove to be fatal for human life and animals.
The chemical elements found in this type of plastic have a very bad effect on the health of humans and the environment.
The chemicals found in these also get mixed with rain water in the water bodies, which can be very dangerous.
Soil erosion is very high due to plastics.
When food items are thrown in plastic bags, animals swallow them along with the bag, which can prove to be fatal.
In this, there is a risk of getting terrible diseases like cancer due to the use of hot drinks and foods.
Shocking facts about plastic
According to a report:
Every minute people buy around one million plastic bottles around the world.
About 91% of the plastic used is not recycled.
According to an estimate, every year around 40 billion plastic bags are used all over the world. Out of which only 1% of the bags are recycled.
Around 5 lakh straws are used around the world every day.
About 500 billion plastic cups are used every day.
According to a report, every year about 11 lakh marine animals, birds and animals die painfully due to plastic. Plastic has been found in the stomach of about 90 percent of the fish and birds that die.Actually, plastic breaks into small pieces and stays inside the ocean. When fish and other marine animals go in search of food inside the sea, they accidentally consume it.

According to a research, about 700 marine creatures are on the verge of extinction due to plastic pollution.

Not only animals and marine animals, according to the research of researchers in England, it has been found that on average a human consumes 70 thousand microplastics every year.
Use these things instead of plastic (remedy)
Use bottles made of copper, glass, metal, or ceramics instead of plastic water bottles. These are easily available in the market.
Use reusable cups instead of plastic cups. If you want, you can also use cups made of paper or clay.
A bag made of jute or paper can be used instead of a plastic bag.
In place of a plastic knife, you can use a knife made of Stainless Steel.
In place of plastic spoons, wooden spoons can be used which are easily available in the market.
Let us tell you that earlier in the year 2019, on Independence Day, on 15th August, Prime Minister Narendra Modi had announced a ban on single-use plastic from the ramparts of the Red Fort and implemented it on the auspicious occasion of the 150th birth anniversary of Gandhi Jayanti on 2nd October. was asked to do.
Single use plastic is very comfortable to use but its use has harmful effects on the environment and humans. And it also has a bad effect on other living beings on earth.